GVB Amsterdam to provide zero emission transport from 2025 onwards. 44 further VDL Citea Electric ordered
The VDL electric bus fleet operated in Amsterdam city transport by GVB is going to be enriched with 44 articulated vehicles. These are scheduled for delivery in early 2022. Today the VDL e-bus 'contribution' in GVB fleet is made of 31 Citea electric. Amsterdam is working to further reduce CO2 emissions in the city. To […]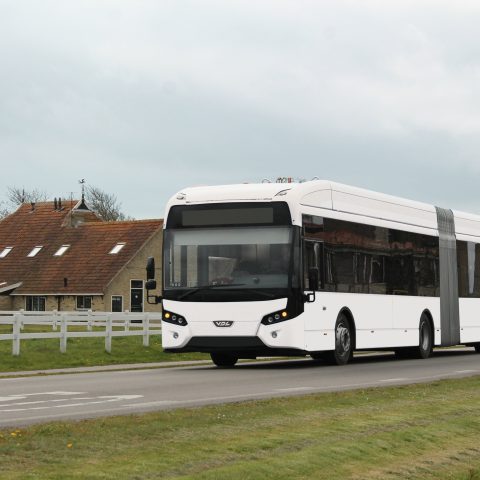 The VDL electric bus fleet operated in Amsterdam city transport by GVB is going to be enriched with 44 articulated vehicles. These are scheduled for delivery in early 2022. Today the VDL e-bus 'contribution' in GVB fleet is made of 31 Citea electric.
Amsterdam is working to further reduce CO2 emissions in the city. To this end, the municipality has developed 'Route Map Amsterdam Climate Neutral 2050'. Amsterdam will reduce its CO2 emissions by 5% in 2025, 55% in 2030 and 95% in 2050, compared to 1990 levels. Part of this includes GVB providing completely emission-free bus transport from 2025 onwards. It should be recalled that over one hundreds VDL zero emission buses are in operation on several lines around Schiphol airport.
The manufacturer has recently revealed to the market, with an online ceremony, the VDL Citea new generation (the order for GVB consists of current generation). The new product family is the outcome of a new concept entirely developed on an electric driveline. And, for the first time, it will house batteries in the floor. The first vehicles are going to be deployed in Lahti, Finland. VDL states an impressive range: «All vehicles cover a distance of 500 to 600 kilometres. Even in bad weather conditions (-15 degrees Celsius), the Citea can still drive 250 kilometres 100% electrically». A battery capacity of 490 kWh is possible on a 12.2-metre VDL Citea.
The first vehicle are expected to be delivered in early 2022, with series production to begin within 2021. By the end of next year all the models of the range are said to be available.
GVB Amsterdam: transition to electric buses with VDL
At the end of 2018, GVB and VDL Bus & Coach signed the contract for the delivery of 31 electric Citeas, with the option of 69 additional zero emission city buses. The contract concerns close cooperation between the Amsterdam Transport Region as the granter of the concession, the City of Amsterdam, GVB and VDL. In 2020, the VDL Citeas were running on routes 15, 22 and 61, all of which start or end at Sloterdijk Station. The series of buses consists of 9 VDL Citeas SLF-120 Electric and 22 articulated VDL Citeas SLFA-180 Electric.
Amsterdam is growing, and as a public transport company we want to keep the city accessible for everyone in a high-quality manner. Electrifying our buses, thus contributing to clean air, is an important part of that

Claudia Zuiderwijk, General Manager of GVB
The 44 electric Citeas that VDL Bus & Coach (which has a new CEO) will deliver to GVB are all articulated buses. For the expansion to 75 VDL Citeas, VDL Bus & Coach is once again responsible for the implementation of the charging infrastructure, the manufacturer says. Rapid charging is possible at Amsterdam Central Station; vehicles can also be charged at Garage West or Garage Noord. The 44 articulated vehicles, VDL Citeas SLFA-180 Electric, will be equipped with a 422 kWh High Energy battery system.
The new e-buses will also be equipped with camera mirrors, which in combination with two screens in the bus will enable the driver to participate in traffic better and more safely. All of the vehicles are equipped with an electric wheelchair ramp so that passengers with mobility impairments can also travel with them. 
With more than 900 buses in 11 countries, delivered between 2015 and 2021, VDL Bus & Coach has a market share of 20% in Europe. The 100 million electric kilometres achieved in February of this year represent a saving of more than 14.7 million kilograms of CO2 emissions. 
GVB contribution to clean air in Amsterdam
"In this way, GVB is clearly making a massive contribution to the objectives of the city of Amsterdam," says Ard Romers, Managing Director of VDL Bus & Coach Nederland. "We are proud to continue our cooperation with the partners in this project, based on the trust built up in recent years. As a transition partner, we are happy to offer our experience and expertise. More than 900 Citeas now cover more than 135,000 electric kilometres together every day in a large number of European cities and regions. The fact that we can now once again supply e-buses for Amsterdam is, of course, very special. The Netherlands is a leader in Europe in the electrification of public transport." 
"Despite coronavirus and all the uncertainties that come with it as a city transport company, we believe it is extremely important that the process of making our bus fleet more sustainable goes ahead," says Claudia Zuiderwijk, General Manager of GVB. "It's nice that we're getting support from all the parties involved. We consider it our duty as Amsterdam's public transport operator to make a maximum contribution to the city's sustainability goals. Amsterdam is growing, and as a public transport company we want to keep the city accessible for everyone in a high-quality manner. Electrifying our buses, thus contributing to clean air, is an important part of that."