Solaris at Busworld. Bus batteries get a big capacity boost
«Solaris is the first manufacturer in Europe in terms of contracts for electric buses signed in 2019». Take Solaris Bus & Coach's CEO Javier Calleja words for it. The company displayed three emission-free vehicles at the Busworld exhibition: Urbino 12 hydrogen, Urbino 18 electric and the battery trolleybus Trollino 24. What is more, Busworld Europe 2019 […]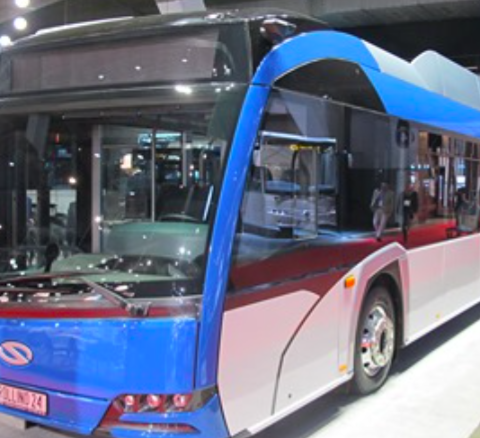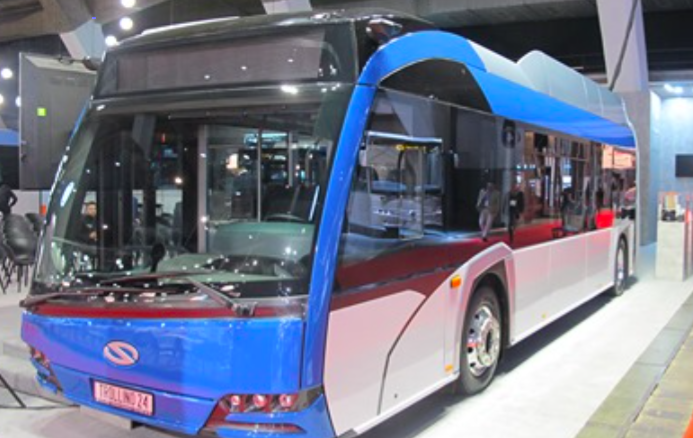 «Solaris is the first manufacturer in Europe in terms of contracts for electric buses signed in 2019». Take Solaris Bus & Coach's CEO Javier Calleja words for it. The company displayed three emission-free vehicles at the Busworld exhibition: Urbino 12 hydrogen, Urbino 18 electric and the battery trolleybus Trollino 24.
What is more, Busworld Europe 2019 has seen the showcase of the new battery Solaris High Energy +, that allow a maximum capacity of 550 kWh on the articulated bus. A concept announced this summer.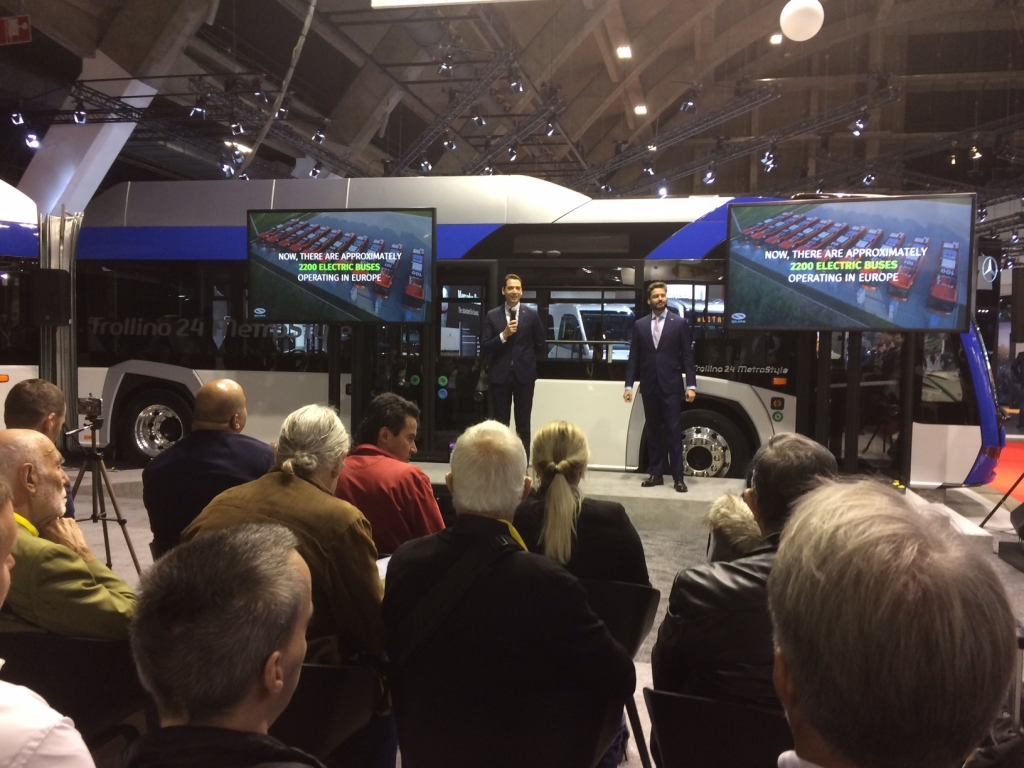 Battery electric and hydrogen buses to be complementary
«EU set a goal: 50 per cent of the buses that will be registered in 2025 in Europe must be electric. And this figure will become 75 per cent in 2030 – said Javier Calleja, Solaris' CEO, during the presentation at Busworld -. Today battery electric buses are suitable to around 50 per cent of the public transport routes. But there are other solutions. Hydrogen, for instance, could be complementary to battery electric technology». «Many manufacturer in Europe can deliver electric buses. But a few manufacturer can deliver high amount of electric buses. We are among them».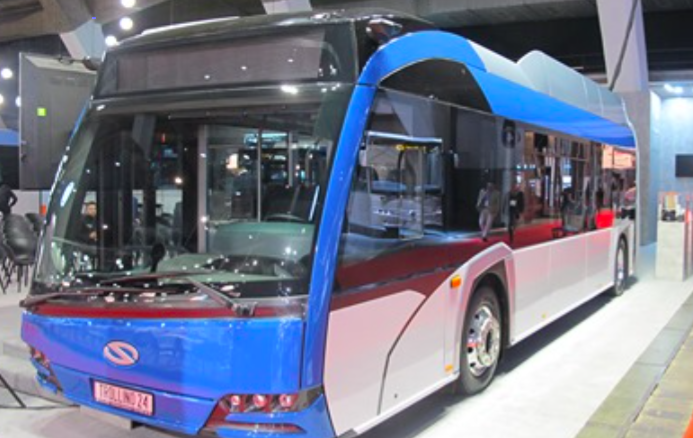 Petros Spinaris: electric bus market is growing fast
«Today there are around 2.200 electric buses in Europe. Just five years ago it was 200. Solaris in this moment has nearly 800 contracted electric buses ordered by 72 cities – said Petros Spinaris, Deputy CEO responsible for Sales, Marketing and After Sales -. The most important of these contracts are the one for up to 250 electric buses for Milan and 130 for Warsaw. Today, 47 per cent of our production is made of alternative drive buses (battery electric, hybrids, CNG fuelled)».
Advance safety systems for the new Urbino 18 range
The Solaris Urbino 18 electric for Busworld features a series of advanced safety systems. The bus is equipped with the CMS (Collision Mitigation System). When a radar installed in a bus detects the risk of a potential head-on collision, the system goes into braking mode, reducing velocity and thus alleviating the consequences of a potential collision.
The 18-meter Solaris features also cameras (in place of side mirrors) that ensure improved visibility not only in bright sunlight, but also during rain or snowfall, as well as at night. This new solution is already available for the whole Urbino family.
Solaris Trollino 24. The trolleybus gets extra long
The 24-metre Solaris Trollino 24 is equipped with an electric powered heating pump and the fourth steering axle. The capacity could vary from about 180 to 200 people, depending on the configuration required by customers. It is not just a trolleybus but a platform for several application: indeed it can be built in battery electric bus, hybrid bus and trolleybus mode, plus the metrostyle new design.
Solaris Urbino 12 hydrogen: a new chapter for Solaris
The Solaris Urbino 12 hydrogen is equipped with 60 kW fuel cell system and Solaris High Power batteries. The battery is filled with energy derived from hydrogen and through the regenerative braking, though it is also possible to recharge it by means of a plug-in socket.
Complementing the driveline is, as usual, the ZF AxTrax mounted also on the Urbino battery electric. The axle features integrated electric motors (2 x 125 kW). In order to reduce energy use to a maximum, the vehicle will be equipped with a climate control system with a CO₂ heat pump that allows to use waste heat from the fuel cell.
The forum "Solaris talks"
The Polish manufacturer (part of CAF group) is also organizing the forum "Solaris Talks", which will take place every day of the fairs at the Solaris stand in Hall 5. As part of "Solaris Talks" the manufacturer will share its experience and information about its products, but also invite to talk about modern technologies used in the area of e-mobility and the changing image of public transport. The topics of short presentations opening the discussion will concern, among others types and selection of batteries, charging systems for buses and trolleybuses, hydrogen vehicles or remote diagnosis for electric buses.