Yutong new buses at Busworld. Europe is the target
«Yutong is the first bus manufacturer in the world in terms of sales volumes. The market share achieved by Yutong in China is 34 per cent. And we have a market share of 15 per cent in the world», said Ms. Jiang Bing, Vice Brand Director of Yutong Group, during the press conference held at Busworld. In Brussels, […]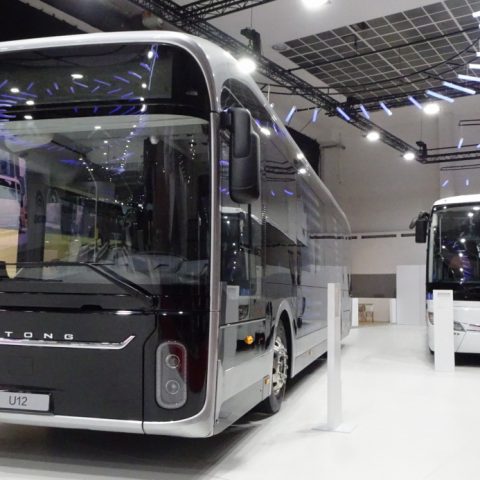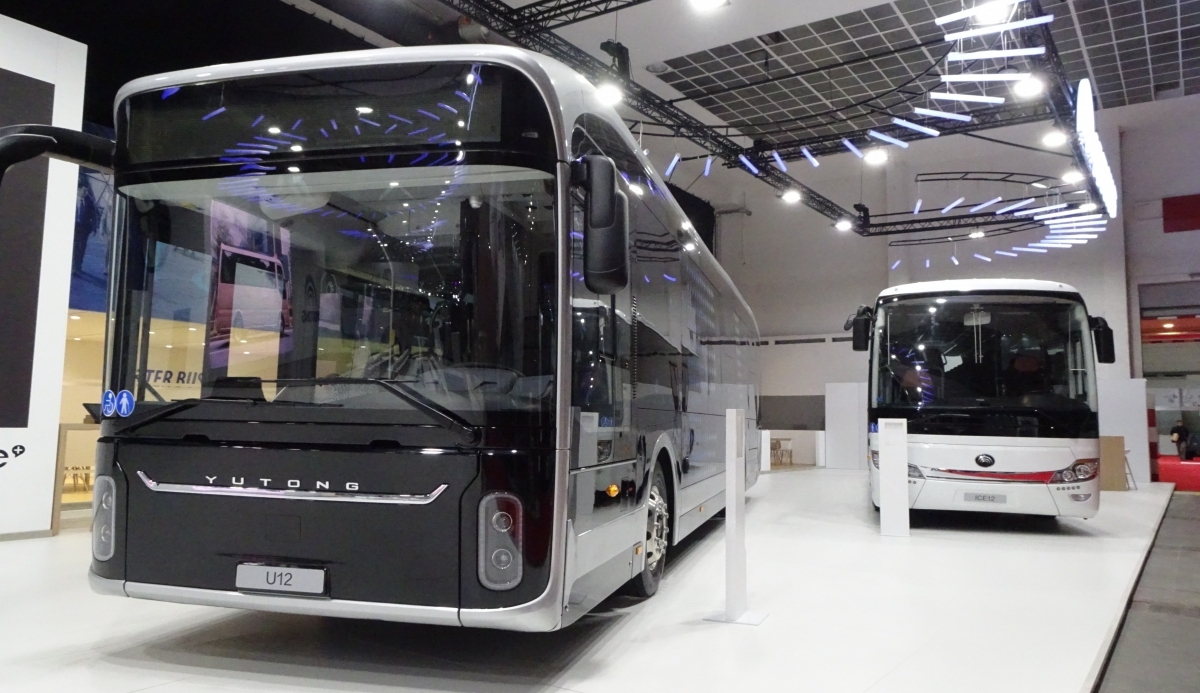 «Yutong is the first bus manufacturer in the world in terms of sales volumes. The market share achieved by Yutong in China is 34 per cent. And we have a market share of 15 per cent in the world», said Ms. Jiang Bing, Vice Brand Director of Yutong Group, during the press conference held at Busworld.
In Brussels, Yutong showcased an electric bus specially dedicated to European market. Named Yutong U12, it's a 12 meter bus outcome of a intense work on the design. Still Europe is the targeted region of the coach Yutong T13.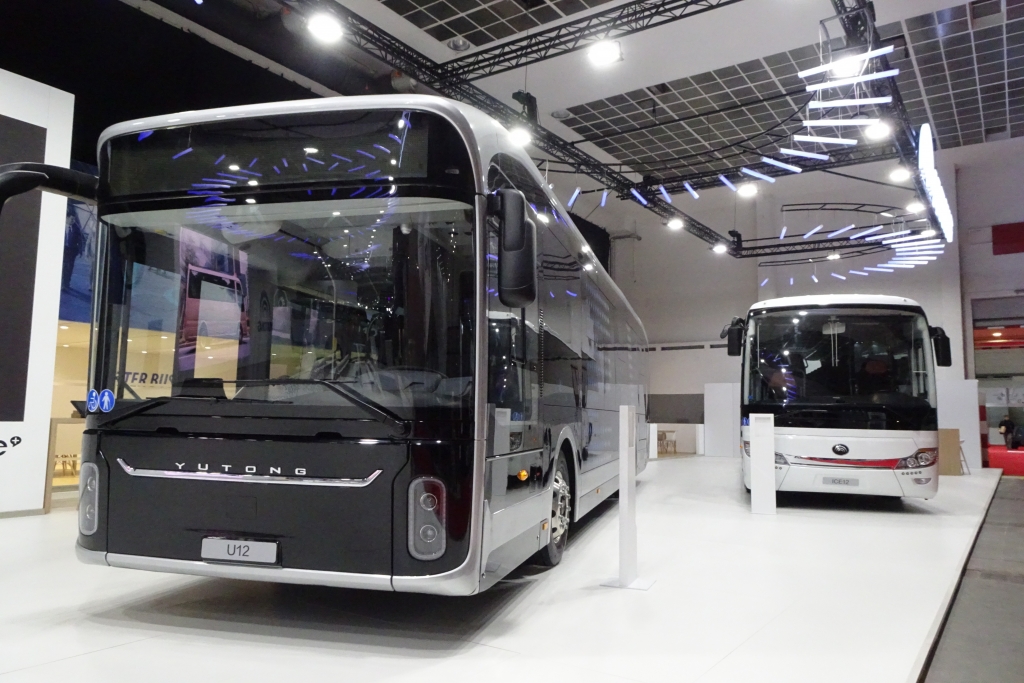 120,000 Yutong new energy buses delivered
In 2018 Yutong sold more than 24,000 new energy buses (out of some 60,000 bus totally sold by the group). Most of them are in China: the buses and coaches exported during last year have been 7,200.
So far the Chinese company has delivered new energy buses to Chile, Mexico, France, Bulgaria and several other countries in the world. To date, the amount of new energy buses sold by Yutong reaches some 120,000 units. They are deployed in 380 cities worldwide.
In China, the definition 'new energy buses' covers full (or pure) electric buses, plugin hybrid buses, and fuel cell buses. Due to China's policy orientation (addressed at the full electrification of public transportation systems), pure electric buses occupy more than 80% of the market share of city buses.
Yutong group has four manufacturing plants for an impressing maximum daily production capacity of 445 buses (375 new energy buses).
Yutong buses in Europe
Yutong so far has delivered around 60 electric buses in France. In the South of Provence, in France, 10 Yutong buses have recently rolled out in the first intercity bus line so far in operation in Europe.
Still in Europe, the first electric city buses in Denmark were provided by Yutong: they are protagonists of the full electrification of Roskilde public transport network. 100 Yutong electric buses have also been delivered to Santiago, in Latin America.
And recently a batch of 100 Yutong buses has been ordered by the capital city of Kazakhstan Nur-Sultan (formerly known, till March 2019, with the denomination of Astana).
Yutong electric bus. Addressed to European customers
The main novelty showcased at Busworld is the Yutong U12, developed for European market. 94 passengers can find a place on board on the 12 meter bus (the articulated electric bus will soon be launched). The bus is equipped with as many as 422 kWh battery. Axles are provided by ZF. With regards to of active safety systems, Yutong announced it has heavily invested in developing the "BusEYE Pro driving assistant system".
"Make driving easier" is the criterion that guided Yutong in the development of the Yutong U12.  With stepless speed change, highly efficient electric power steering and pneumatic steering wheel adjustment, all operating positions of the driver are at ease without physical changes, driving intensity drops linearly, Yutong points out.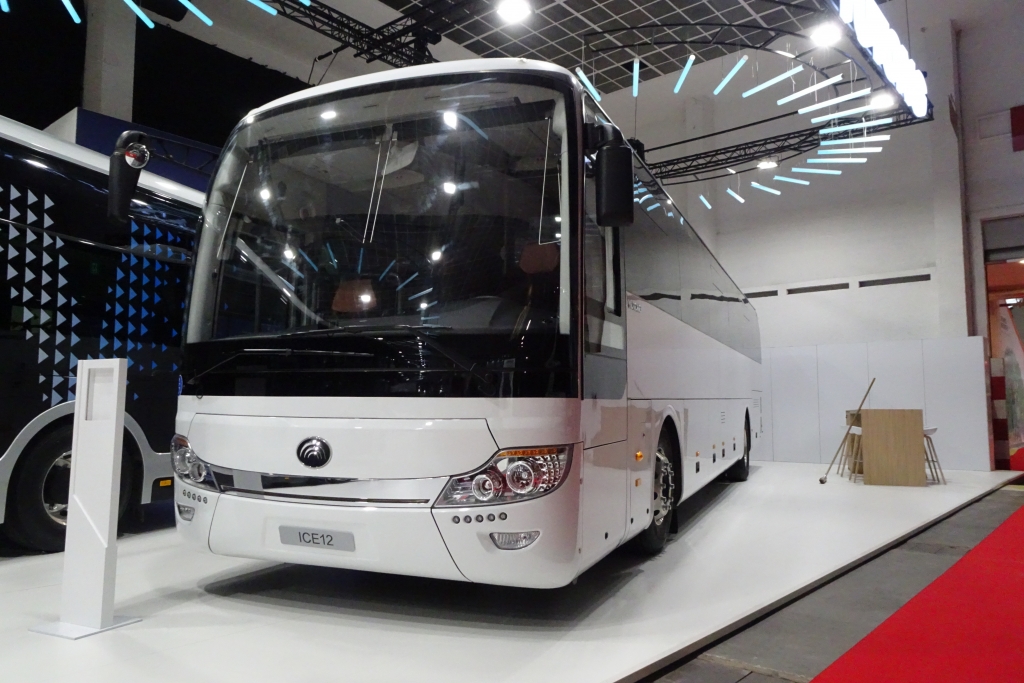 New design for the Yutong electric bus
As all Yutong new energy buses, the U12 employs the embedded program, realizing the mobile interconnection between the bus and the driver. Thanks to smart diagnosis, smart central control, energy-consumption statistics and other data processing, it provides smart and networked information for the driver and the company.
Interior design is totally new. It is developed in order to convey a sense of strength and technological acumen, and the human-oriented concept provides comfort and convenience.
Yutong. Also the coach in display
At Busworld Yutong also showcased the T13, that candidates itself to play a role in the coach market.
A European styling company was involved in the design of Yutong T13, combining European elegance with modern dynamic elements. Featuring streamlined outline and curves, the coach combines high functionality and an outstanding appearance, Yutong explains. The coach features large windshield and full LED headlights.
The vehicle body employs imported metal paint, which features bright colors, superior quality and long-lasting beauty. The axle are made by ZF. Each seat has a USB port that can be used to charge the passengers' mobile phone and other devices.
Among safety systems, the Yutong T13 features AEBS, LDWS, ACC, automatic lights, automatic wipers, temperature alarm systems.