100 Yutong electric buses are headed to Kazakhstan, where the capital city Nur-Sultan (formerly known, till March 2019, with the denomination of Astana) announced it will upgrade the bus fleet purchasing zero emission vehicles. The vehicles are jointly developed by the Chinese manufacturer and Kazakh manufacturer and distributor Saryarka AvtoProm.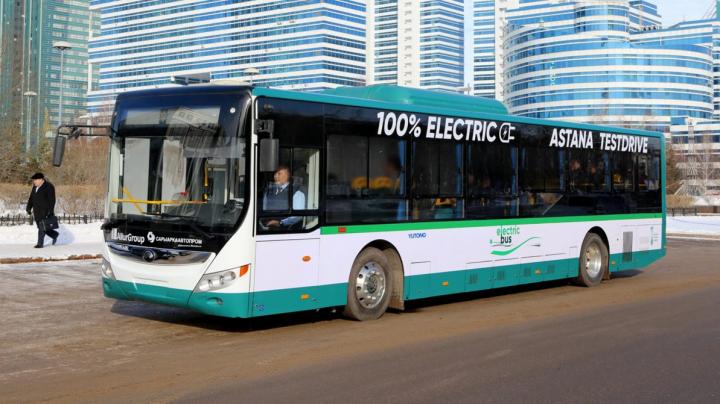 Yutong buses for Nur-Sultan
The 100 Yutong electric buses headed to Nur-Sultan are 12 meter model, with 30 seats each. Range, according to the manufacturer, can reach 350 km. The vehicles will be equipped with electronic fare payment systems, video surveillance, intelligent battery management systems, USB ports.
Among the latest deliveries of Yutong electric buses, we could mention the supply of 100 ebuses to Santiago de Chile and the one to the Danish municipality of Roskilde.
The new buses will be purchased through DBK Leasing as part of the state programme to upgrade the fleet with domestically produced equipment.
«We want to grow in Europe». Take Franco Miniero (Yutong MD Europe and North America) word for it
Yutong bus prevailed on Heuliez, MAN and Mercedes
According to Asian Times, several models have been tested in the hard winter of Nur-Sultan, at a temperature of minus 38 degrees Celsius. Thus, a cost analysis was carried on. «The minimum price for a Heuliez Bus GX 337 Electric, a French 12-metre electric bus, is $503,000. German MAN Lion's City E bus prices start at $635,000. German Mercedes eCitaro buses begin at $558,000 – reports Asian Times -. The domestic manufacturer and distributor SaryarkaAvtoProm met all the necessary requirements with its Yutong ZK6128BEVG electric bus costing 146.7 million tenge (US$378,000)».
"One hundred new electric buses will appear in our capital. This means that we will reduce the bus deficit and renew the bus fleet with new comfortable silent buses. The interval of bus arrival will be significantly reduced, which means that the waiting time at stopping points will also be reduced," reportedly said Astana LRT Chairperson Bekmyrza Igenberdinov.