Keolis operates a new BRT in Amiens with 43 Irizar electric buses
Amiens Métropole and Keolis just launched what they claims to be "the first electric BRT in France". The service is operated by electric buses on four new rapid transit routes. The buses involved in this project are 43 model of Irizar ie tram that are now part of a fleet of 136 buses deployed in the city. […]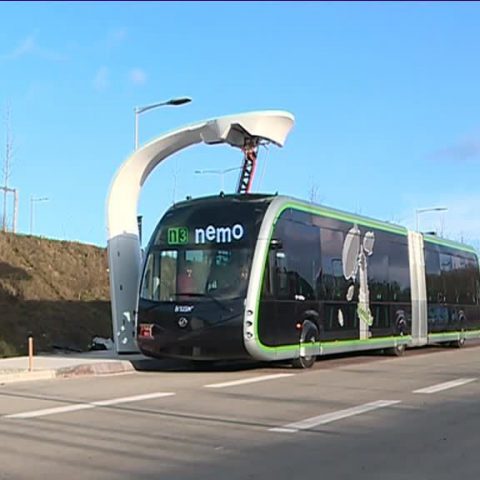 Amiens Métropole and Keolis just launched what they claims to be "the first electric BRT in France". The service is operated by electric buses on four new rapid transit routes. The buses involved in this project are 43 model of Irizar ie tram that are now part of a fleet of 136 buses deployed in the city.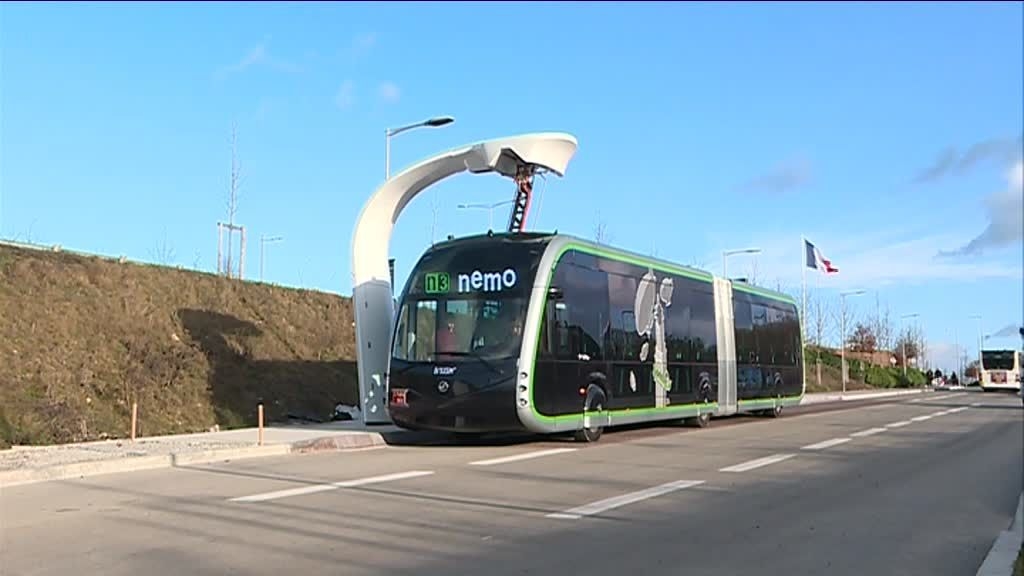 28 per cent more passenger expected
The new Amiens BRT routes are parte of a network called Nemo. They make up the backbone of the whole Ametis public transport network where they are expected to constitute more than 70% of total network traffic across the Amiens intercommunal area, according to a press release from Keolis. Amiens Métropole and Keolis forecast an increase of 28% in passenger numbers over the next five years as a result of this new network.
This BRT system is the first of its kind in France, Keolis claims, and represents a major milestone in the roll-out of Keolis' electro-mobility strategy which will see the Group become France's leading operator of electric shared mobility networks by the end of 2019. Keolis contract for public transportation services in Amies was renewed at the end of 2017: under its terms, the group will continue to provide mobility services for the 180,000 residents of Amiens Métropole residing in 39 towns and villages over a 350 km2 area.
Keolis is thereby accompanying Amiens Métropole – which was officially endorsed as a 'positive-energy region helping to deliver green growth' in 2015 – with its ambitious objectives in the transition to greener energies including investing to become completely electric.

Irizar ie tram for Amiens BRT
On 11th May, Keolis began operating 43 fully electric buses out of a total fleet of 136 vehicles on behalf of Amiens Métropole. The Irizar ie tram buses, which can accommodate up to 151 passengers. Some of the routes along which the buses run are dedicated transport corridors and enjoy priority right of way at traffic lights from 4am until midnight. During peak hours, buses run every 8 to 10 minutes.
These electric vehicles are charged through both a rapid charge station in the bus terminal (4-5 minutes average charging time for 40 km of autonomous service, Keolis says) and a slower charge option in the bus depot at night (3-4 hours to charge to 100% capacity).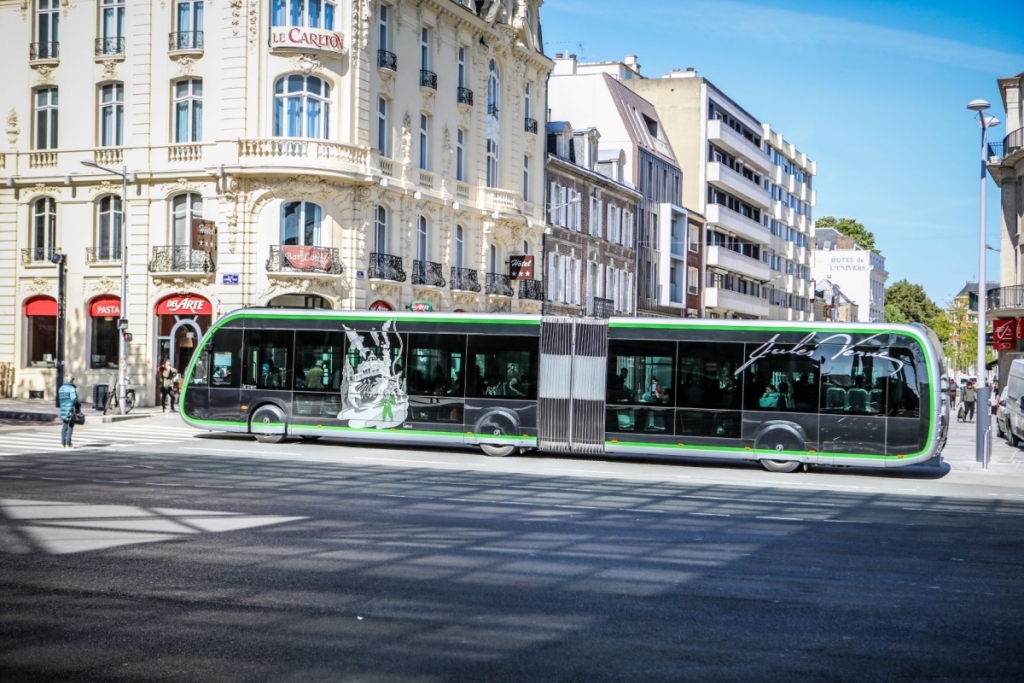 Irizar ie tram for Spain and Luxembourg
Irizar electric articulated bus is also running in Barcelona for TMB. 14 units have also been ordered by Voyages Emile Weber, in Luxembourg: these will be the first 18 m articulated buses with 525 kWh to operate in night charging mode. This acquisition also includes charging infrastructure and repair and maintenance contracts. Recently, an order has been placed by the Swiss city of Schaffhausen for 15 zero emission buses.
Irizar electric buses are built in the first European plant where a European manufacturer only realize electric vehicles. The plant covers 18.000 square meters of gross floor area on 4 hectars plot, situated in the town of Aduna, Gipuzkoa (close to San Sebastian). Irizar is the first manufacturer of buses to boast a plant focused on emobility and, furthermore, to build the whole electric buses, components included, in house, thanks to the different companies of the group. The inauguration of Aduna's plant, which happened one year ago, had also been the occasion to present to press and customers from all over the world the first truck manufacturer by Irizar: the ie truck. Electric, needless to say.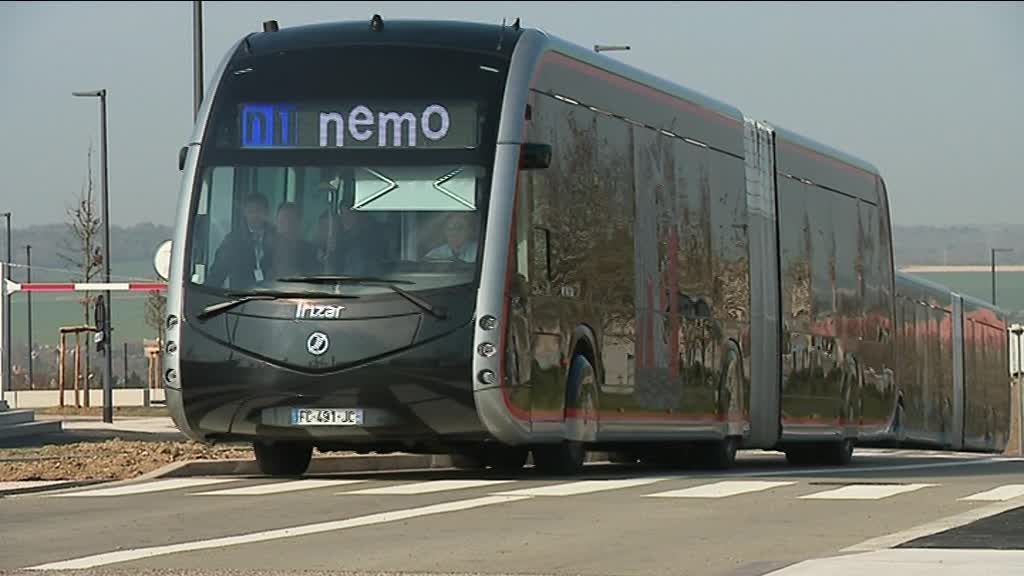 Keolis training drivers
To prepare for the launch of the electric BRT system and upgrade the skill sets of the people involved in operating these new vehicles, Keolis has implemented a training scheme for more than 300 drivers, as well as employees in charge of maintaining the electric vehicles and the regulators at the central control station.
Furthermore, a new HEQ1-certified operations and maintenance centre which can accommodate up to 155 buses has been built in Rivery, on the outskirts of Amiens. Opened on 15th April in the presence of Elisabeth Borne, France's Minister for Transport, and Alain Gest, Chairman of Amiens Métropole, this site has been designed to make it easier to manage and maintain the network and bring about significant improvements in working conditions.
312 electric buses operated by Keolis
As of the end of 2018, the Keolis Group operated 3,847 vehicles running on alternative energies, including 312 electric ones.
Keolis group is also preparing to launch the fully-electric BRT in Bayonne-Biarritz-Anglet, the hydrogen-powered BRT in Pau (the first and the Caen tram system, which will all be brought into service over the next few months. As a result 2019 sees Keolis due to become the operator with the highest number of fully electric transport networks in France, the group claims.
Furthermore, in Rennes, where the city ended its diesel-powered bus purchases in 2015, Keolis is testing five standard buses and one articulated bus from the fully electric BlueBus range (Bolloré). Two new ones will be brought into service between now and 2020.
Finally, in Orléans, the group is supporting the city in developing a fully electric transport network. This will involve replacing the whole bus fleet with electric vehicles between now and 2024. As a result, the TAO network will see Orléans become France's first city fully electric network. Also tram and electric bikes will be deployed to achieve this ambitious goal.