Pau (France) welcomes the launch of the world's first hydrogen BRT
The world's first hydrogen-powered BRT system is called Fébus and is operational in the south of France. The city of Pau has seen yesterday the roll-out of the eight Van Hool Exqui.City FC 18-meter hydrogen buses. They serve 14 stations along a six kilometre long dedicated BRT lane with priority at crossroads. In France, in addition to […]
The world's first hydrogen-powered BRT system is called Fébus and is operational in the south of France. The city of Pau has seen yesterday the roll-out of the eight Van Hool Exqui.City FC 18-meter hydrogen buses. They serve 14 stations along a six kilometre long dedicated BRT lane with priority at crossroads.
In France, in addition to the hydrogen BRT service in Pau, Keolis launched the fully electric BRT lines in Amiens (May 2019) and Bayonne-Biarritz-Anglet (September 2019) as well as the Caen steel-wheeled tram (July 2019). Plus, in the Netherlands, the group recently won the largest electric bus contract in its history, with 300 vehicles operating in the provinces of Overijssel, Flevoland and Gelderland from December 2020 onwards. A huge order for 259 BYD electric buses has already been signed.
The world's first hydrogen-powered BRT system
This new service is part of the city public transport network and part of its global overhaul. Inaugurated by François Bayrou, Mayor and President of the Pau Béarn Pyrénées intercommunal area, it was opened to the public on 17 December 2019.
A long-standing partner of Pau transport operator SPL STAP (Société de Transport de l'Agglomération Paloise), in charge of operating Pau Béarn Pyrénées Mobilités' city public transport network for 20 years, Keolis has worked on the launch of the 100% hydrogen BRT service called Fébus, that runs in the centre of Pau. This launch represents the culmination of the overhaul of the city transport network IDELIS, aimed at modernising and developing the transport offer to increase the region's2 appeal.
Van Hool and hydrogen buses
The Van Hool Exqui.City FC has been unveiled at Busworld in Brussels, together with an electric coach of the North American market, featuring Proterra batteries. Van Hool portfolio includes also a 12-meter hydrogen bus, the A330 FC, that will be delivered in 30 units to Cologne, and other 10 vehicles will be deployed in Wuppertal through Jive 2 EU funded program. The vehicle, when deployed on flat urban service lines, will be equipped with 24 kWh traction battery and 85 kW hydrogen fuel stack. The version of the bus for regional and hilly city services is fitted with a 36 kWh traction battery.
With regards to the Van Hool Exqui.City FC, CEO Filip Van Hool said in an interview with Sustainable Bus that «the same platform will be used to offer an articulated fuel cell bus in classical look, so not designed for BRT. In this way we will have a complete range of fuel cell buses, with both the 12 and the 18 meter version».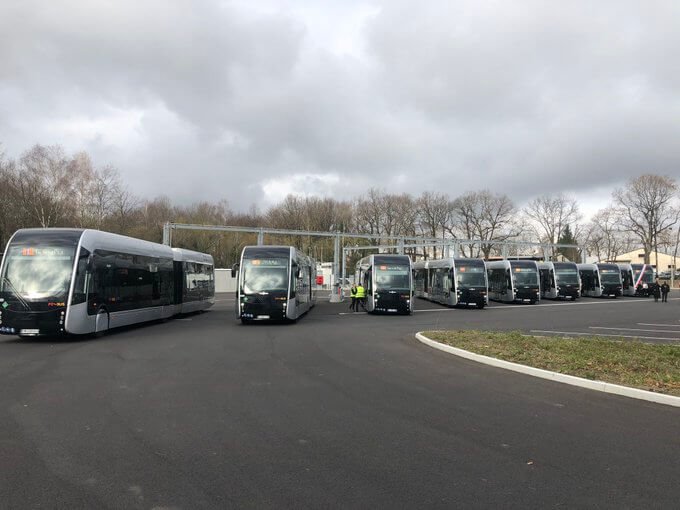 Hydrogen buses in Pau's city center
Keolis is providing technical assistance for the operation of the eight Fébus hydrogen BRTs. These vehicles operate on the route between François Mitterand Hospital, in the north of the intercommunal area, and Pau train station, in the south. They serve the city's main points of activity: the educational (university), administrative as well as commercial and leasure hubs (supermarket, cinema, restaurants, city centre and its shops).
Thanks to a route which runs 85% of the time on 6 kilometre long dedicated lanes protected from other traffic, and a priority system at crossroads, the travel time of this key line for getting around Pau is 17 minutes. The BRT vehicles run from Monday to Thursday (6am to 11.30pm), Friday and Saturday (6am to 1am) and Sunday (9am to 11pm).
The trambuses deployment in Pau is partially funded by Europe's FCH-JU program. GNVERT, a subsidiary of ENGIE, constructed and operates the hydrogen refueling station for the tram-buses.
145 passengers for each Pau's hydrogen bus
The hydrogen used to supply energy to the Van Hool buses is produced in the station built near the IDELIS bus depot in Pau. The buses will be refuelled overnight at an on-site hydrogen station custom made by ITM Power and inaugurated in September 2019. Reportedly, station will produce 174 to 268 kg of hydrogen a day using a solar powered electrolyser that will give the buses a minimum range of 240km.
One hundred employees were trained in this new rolling stock (50 for driving and 50 for maintenance and control).
Accessible to people with reduced mobility, these 18 metre vehicles have a 145 person capacity and include 32 leather-covered seats and large bay windows that provide passengers with plenty of light. The line's 14 stations are equipped with complete real-time passenger information, free Wi-Fi connection, automatic ticket vending machines and video protection cameras.
Ballard-powered hydrogen buses
The 8 Van Hool Exqui.City FC trambuses are powered Ballard FCveloCity-HD 100-kW fuel cell modules. Ballard Power Systems shipped modules to Van Hool in 2018. The vehicles use fuel cells for primary power and lithium batteries for additional power when needed, with the only emission being water vapour.
Jesper Themsen, President and CEO of Ballard Power Systems Europe A/S said, "This first ever deployment of fuel cell-powered trambuses is an exciting event in our ongoing partnership and collaboration with Van Hool, a leading European bus OEM. It also represents another step forward in the growing momentum behind zero-emission fuel cell adoption in Europe's transportation sector. Ballard's customer service organization at our Hobro, Denmark facility is available to support the ExquiCity fleet as well as all other Ballard-powered buses operating in Europe."