It's trial time in Cologne for Caetano hydrogen bus
Cologne's RVK is testing a Caetano hydrogen bus. Until mid-January, the 12-meter Caetano H2.CityGold will be tested in the metropolitan area of Cologne, Germany. The operator will receive 15 Solaris Urbino 12 hydrogen in the future that will join 30 fuel cell buses by Van Hool. The same vehicle has been recently tested in Ireland and in London. […]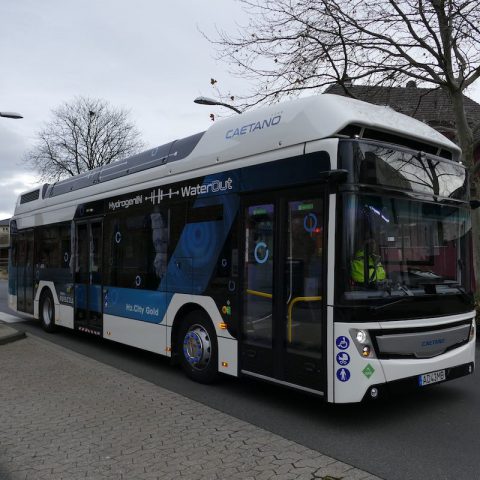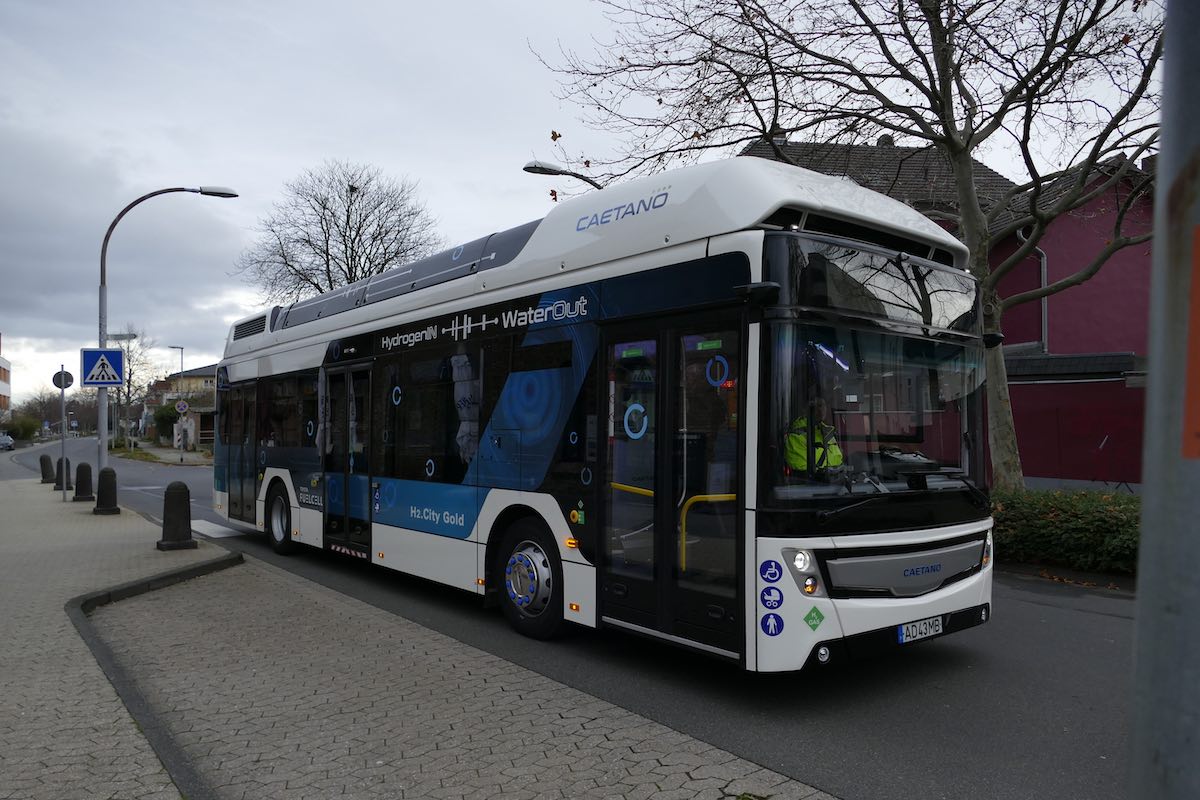 Cologne's RVK is testing a Caetano hydrogen bus. Until mid-January, the 12-meter Caetano H2.CityGold will be tested in the metropolitan area of Cologne, Germany. The operator will receive 15 Solaris Urbino 12 hydrogen in the future that will join 30 fuel cell buses by Van Hool.
The same vehicle has been recently tested in Ireland and in London. It will be provided in 8 units in Barcelona, following the awarding of the European tender to the Portuguese manufacturer. CaetanoBus has recently signed a contract with TMB Barcelona for the supply of 8 hydrogen buses. Also, a few units are headed to Germany, in Niebüll and Bielefeld. Unveiled at Busworld 2019, the Caetano H2.City Gold is available in 10.7 or 12 meter version, LHD and RHD variants.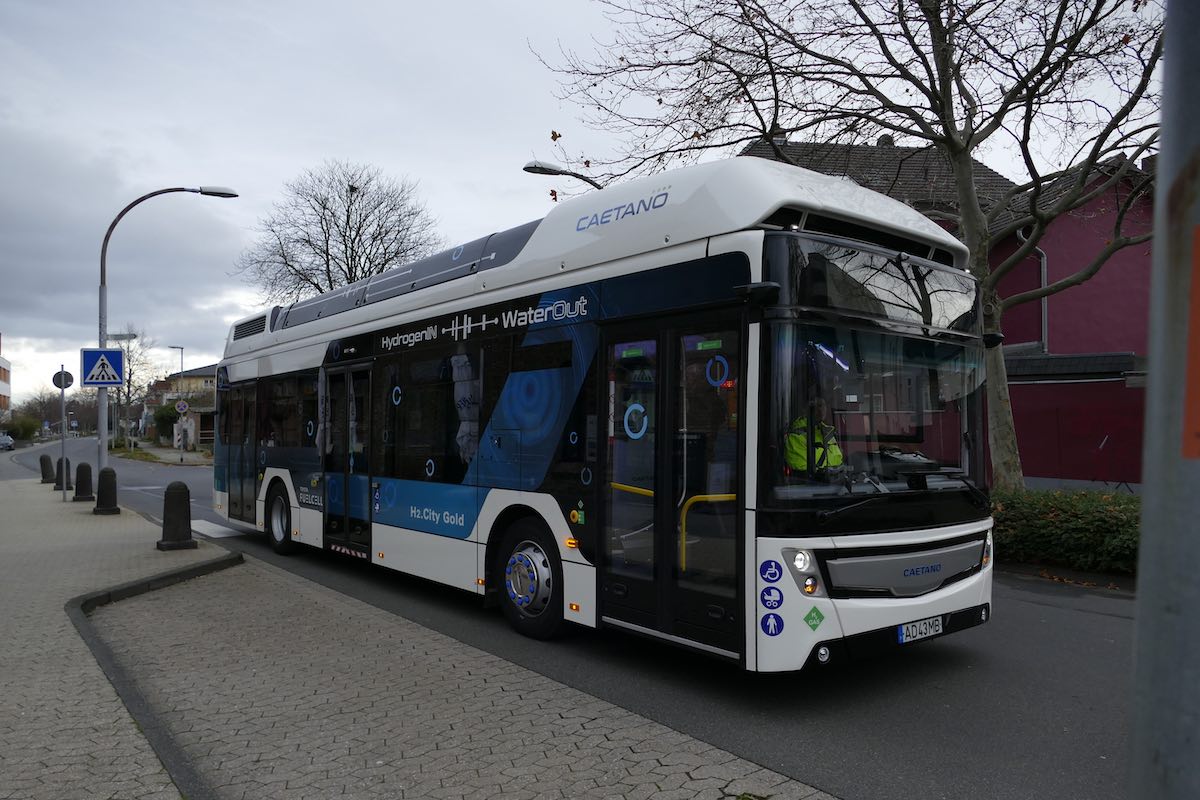 RVK Cologne trial with Caetano hydrogen bus
The bus will be operated on different routes by the regional public transport company, Regionalverkehr Köln GmbH (RVK). The trial will take place for two months until mid-January and will allow RVK to test a Caetano hydrogen bus in daily conditions, during the most severe season of the year in terms of weather, and get real in-use information from this most recent technology for public transportation.
RVK and hydrogen buses
During the demonstration, the Caetano H2.CityGold will be based on RVK's two main bus depots, which are Meckenheim and Wermelskirchen, and will be refuelled in two different hydrogen stations so it can be tested in several bus routes to demonstrate performance capability and technical compatibility.
The Caetano hydrogen bus works by mixing oxygen from air and hydrogen to create electricity through a Toyota fuel cell. This generates electricity and water through chemical reaction, not emitting any harmful substances whatsoever. Electricity is then supplied to the traction motor, which is supplied by Siemens.
Caetano hydrogen bus in Cologne, more than 450 km range
The 12m H2.City Gold offers a range of more than 450 km based on full zero emission running, being able to match the conventional diesel buses, according the producer.
Marcel Frank, RVK's new CEO, supports the decision of the retiring CEO Eugen Puderbach to take the H2.CityGold into test operation, Caetano points out in a press release: "It is important for us to test new manufacturers to gain even more experiences in operating hydrogen buses – Frank says -. We are therefore delighted to have the opportunity of testing Caetano's hydrogen bus. After this test operation, we will be able to evaluate how the H2.CityGold performs in our wide traffic area."
"The actions that RVK has been taking in the field of hydrogen are admirable. We are delighted to do the demonstration with RVK who is one of the most experienced hydrogen bus operators. This demonstration would be the ideal opportunity to validate our H2.CityGold." said Kohei Umeno, Chief Commercial Officer at CaetanoBus.
Fuel cell buses for RVK Köln since 2011
RVK began testing fuel cell technology in regular service as early as 2011. Following the test operation of two prototypes, two pre-series vehicles were deployed in 2014 and 35 series production vehicles of the type A330 FC from Van Hool were commissioned at the end of 2019 and in the first half of 2020. The construction of two hydrogen refuelling stations was nearly finalised as of April 2020, RVK pointed out. The use of biogas buses in the Euskirchen district is also part of this sustainability strategy, which is reflecting regional reality.